Leaders : Sybil Hammond & Mary Cole.
Whist this is not a Lea Valley U3A group, it may be of interset to some, and several LVU3A members belong to this local group.
You may have heard handbells being played at sometime in the past, now it is your chance to try.
You do not need to be able to read music, just bring a pair of thin gloves and have a go.

The group meet at the Parish Centre, St Augustine's Church, Churchfields, Broxbourne.
Friday evenings between 5.30pm and 7pm.
For more information please contact Sybil or Mary, via the email shown in the left margin on the 'Contacts' page.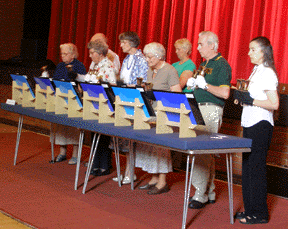 LVU3A -Members playing
Note:
For the current programme of events/meetings please click on the News button to view the latest Newsletter.