The Virtual U3A

The Virtual U3A (vU3a), which went live in January 2009, is an online-only U3A experience for those who are rendered isolated in some way by circumstances or geography and unable to play a full part in a terrestrial U3A. More information is available on the public website where one can also apply for membership.
Why not pay it a visit?
Virtual U3A Website
If you know anyone who might benefit, please pass the information on.


Exploring London Group 8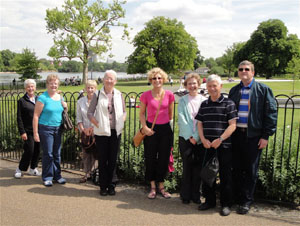 Walk around the Royal Parks.


Hoddesdon Heritage Weekend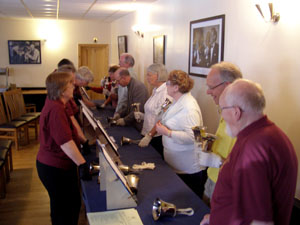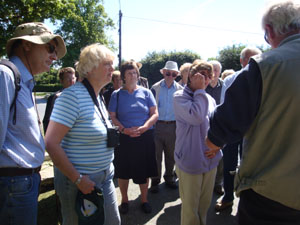 June Crew's Good Friday Nature Walk
Hertford Heath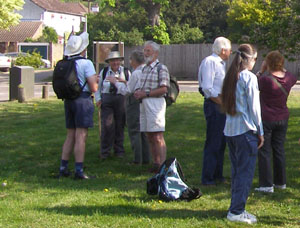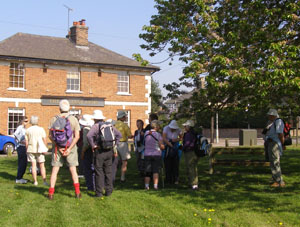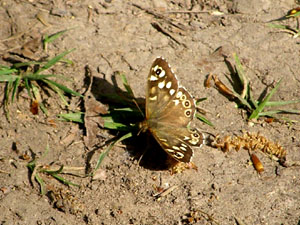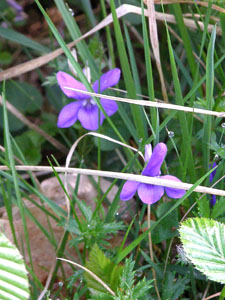 NEWSLETTER
Our newsletter has been produced as a downloadable (pdf) file, which should be compatible with any computer. It contains information covering meeting dates, forthcoming events, all our Groups etc.

To view the latest edition please "click" on the link:-

NEWSLETTER

Please note that contact details (phone numbers, e-mail addresses etc) for Group Leaders and Committee Members are

not

shown in this on-line version of the Newsletter, as this is open to anyone with access to the internet, and we wish to protect this information. Therefore members need to refer to the paper copy you may have collected at a meeting (or a copy may have been emailed to you direct), as those versions contain personal contact information.

Anyone can use the club's email system to make contact with us - please refer to the left hand margin on the 'CONTACTS' page for details.
_________________________________________________________
CHAIRMAN'S CORNER – 9th APRIL 2018


The clocks have gone forward, Easter has come and gone, and we can now (hopefully) look forward to some fine spring weather after the recent cold and snowy conditions.
If you attended our last Interest Afternoon, "Bygone Artefacts", you will know what a fun afternoon it was. Jeff Nicholls effortlessly guided us through a procession of 30 objects, each labelled with a number, a question and a choice of 4 answers for each table to discuss. After a refreshing break for tea and cake, he supplied us with all the answers and some of the stories associated with the objects. Glove stretchers, boot pullers, and a tea caddy measure were just some of his artefacts from the past in his collection.
In Spring, it is natural to think of Love, Courtship and Marriage, and Lee Rayner and Malcolm and Alison Gordon have just the thing for us with their Interest Afternoon on May 21st entitled "Made in Heaven". Tickets are on sale at our April and May meetings.
"All My Loving – the lives and music of the Beatles" is the title of the talk for our July meeting. Can your group think of a Beatle-themed activity? if so, do let us know. So far, the Painting Group and the Handbell Ringers have suggested ideas – we need more!
Elsewhere in the Newsletter, Dennis our Groups Co-ordinator is making a plea for new members for those groups we currently run. Groups are the lifeblood of a U3A, and at the moment, to be viable, several of our groups need more members. Can you get involved?
Why not use that lovely spring weather to go out and join a new group?
Mary Cole


Learn Laugh Live
__________________________________________________________________________________
THEATRE TRIP TO SEE "THE MODERATE SOPRANO"

The Theatre Group have tickets available to see this play in the West End at the matinee performance on 7th June.

The group have 16 tickets on hold, but only until 30th April.

The cost is approximately £50 which is for seats in the stalls, and includes coach fare.

If you are intersted please contact Lee Rayner as soon as possible, either through details in paper copies of the Newsletter, or via the LVU3A email via the 'CONTACTS' tab in the left margin,

Please click on this link to see a flyer with more information:
ModerateSoprano.pdf
_____________________________________________________________________________
BUSY FINGERS CRAFT GROUP DECORATE HODDESDON HIGH STREET


Congratulations and well done to everyone who helped with the display in the High Street this year. It was our 5th year and was again a huge success. Photos (above) are also currently on the National U3A Office website. Our fame is spreading across the UK and we are already well known locally for our work. When we were installing it, members of the public were watching and asked if it was the U3A again! Our beautiful Christmas Tableaux which were on display at our November meeting were also installed in Hoddesdon Library. Special thanks to Elaine Penrose – our designer – and to all those who knitted for us. Wonderful effort!

To see more photographs and comments please click on this link:

BusyFingJan2018.pdf
Barbara Cordina
Joint Group Leader with Elaine Penrose and Anne Northcott
___________________________________________________________________

LINE DANCING GROUP


Lea Valley U3A Line Dancers celebrated Christmas and Halloween 2017 in style. You can see pictures by clicking on the link below:
ftp://ftp.lvu3a.org.uk/LineDancersJan2018.pdf
Make your New Year Resolution to come along and join us, keep fit and have a lot of fun !!

We meet on a Monday 11am – 12.30pm at Barclay Hall in Hoddesdon (opposite Morrisons). This is our 'improvers' class.



**We are starting an Absolute Beginner class on
Monday
9th April 2018 at 10am, before our Improvers class.**



If you have never tried Line Dancing before, come along and have a go. It's a good workout for your body and brain. We are a very sociable and happy group.

Cyndy, our tutor, makes the whole session fun and is very patient with all of us.

If you are interested please contact us at Line Dance table at Lea Valley Meeting, or send an email using the CONTACTS button (top left of this page), then the email address is in the left margin.

--------------------------------------------------------------------------------------------------------------

TWO NEW GROUPS FOR 2018
We are delighted to announce that two new groups launched in 2018, namely Scrabble and Art Appreciation.

Please click on th "Groups" button in the top left margin for more information.

We are always looking to set up new groups. Please read the Newsletter for the latest information, or speak to our Group Co-ordinator Dennis Bruce.

________________________________________________________
BUSY FINGERS CRAFT GROUP
Spring Wedding for Harry & Megan
As I packed away the Royal Family display after our Summer Celebration little did any of us
expect they would make an appearance for some years. So without doubt the Royals will be back on show once again In readiness for the day we need to refresh and add a few figures to our tableau.

So if you enjoyed helping us in the past, your help would be appreciated for this special outing…..

Please contact me, Elaine Penrose, or Barbara Cordina who will be on the "Boys Toys.." table at the January meeting,

For more information please click on this link:
| | | |
| --- | --- | --- |
| | LVU3A's 11th FUN QUIZ - MON 30TH APRIL 2018 | |
Back by popular demand, our 11th Fun Quiz will take place at the usual venue, St Augustine's Parish Centre, Broxbourne on the date shown above.

Quiz will commence at

1.30 sharp

and usually finishes around 4pm. Admission charge remains at £2 (£2.50 for non-LVU3A members) which includes tea and cake and prizes for the winners. How do they do it I hear you ask!



Tickets will be on sale at our March and April monthly meetings

. Tickets will also be available on the door, subject to capacity of the hall, but we would much prefer if you can buy tickets in advance (or phone or email us to let us know you are coming) as this helps us with the catering and so we know how many tables to set up at the venue.

Either arrange your own teams on tables of up to 8 people, or just come along by yourself or with a colleague and join a table when you get there and make some new friends.

Come along and exercise those brain cells at a quiz that we have designed to be not too taxing.
________________________________________________________

HODDESDON LIBRARY REACHES 40th ANNIVERSARY
We send our congratulations to Hoddesdon Library as they reach their 40th Anniversary.

Our Busy Fingers Group made a Garden Tea Party display which was on show in the library from 3rd to 14th October, as part of their celebrations.

You can see pictures of the display by clicking on the links below:


.
_________________________________________________________
SILVER ANNIVERSARY -
THE HISTORY OF OUR GROUPS
To mark our 25
th
Anniversary in 2017 our Group Leaders contributed to a commemorative booklet entitled "HISTORY OF OUR INTEREST GROUPS, 1992 – 2017".
The content was then compiled by our then Chairman, Barbara Cordina, and the result can be seen by clicking on the link below. This is a wonderful record of the multitude of Groups we have, which are the lifeblood of our U3A.
(Please be patient, as it is a large file, and may take some time to open, depending on the speed of your computer.)


------------------------------------------


SILVER ANNIVERSARY BROCHURE
As part of our 25 Year Celebrations, Lee Rayner and Joan Underwood produced a 25th Anniversary brochure.

This contains details of our 25 year history since 1992, with photographs, and is very interesting. We thank them for their hard work on this project. which can be seen by clicking on the link below.
--------------------------------------------------------------------

THIRD AGE TRUST MONTHLY NEWSLETTER
The Third Age Trust issues a monthly national newsletter with news from the national office as well as from UK branches.

Visit the national U3A website page (go to the 'Links' page in the the top left of the margin). Under "Other Websites" you will find the U3A National Website.

On the 'About' tab on the website you can view the Newsletter Archive. You may need to register on the site and set up a password to access all content.

You can also arrange to have their new Newsletters emailed to you each time they are published.


--------------------------------------------------------------------------------------------------------------


VOLUNTEERS NEEDED TO LISTEN TO CHILDREN READ IN LOCAL PRIMARY SCHOOLS
Can you spare an hour or two a week to listen to children read in a local primary school? Schoolreaders is looking for more volunteers in Hertfordshire to carry out this important role. Reading time for many children at home and at school is often insufficient and one in four children are now leaving primary school unable to read to the required standard.


Please visit the website

www.schoolreaders.org

to join or call 01234 924111 for further information, or click on this link:
--------------------------------------------------------------------------------------------------------------
APPEAL FROM THE NATIONAL TRUST GROUP
We are looking for somebody to take over our National Trust group.

This involves organising visits to National Trust Properties.

Joan Ellis has run this group very successfully for many years but feels she needs to stand back for a while, for personal reasons, although she will be very willing to help whoever takes the group over.
These are very worthwhile visits for our members. Please let me know if you would like more information about what is involved. It would be a shame to see this group close because of lack of interest.
Please.contact our Group Co-ordinator Dennis Bruce or any committee member.
--------------------------------------------------------------------------------------------------------------

INTEREST GROUPS
Many of you are members of our Interest Groups and they cover a wide variety of subjects and activities.

However, we are always looking for new ideas for different groups from our members, and our Group Co-ordinator, Dennis Bruce, will help to set up new groups.

Just speak to any member of the committee if you have any suggestions, we are not asking you to be involved yourself unless you want to, we just need the ideas.

A few suggestions are:- Scrabble, Quilting, Exploring Local Churches, Current Affairs, Wine Appreciation etc. There is no end to subjects which may interest others.

Please help us to provide more for our members.

--------------------------------------------------------------------------------------


By clicking on the link below you can see a poster displaying the available, and their (very reasonable!) prices.
Do stop by the Sales table in the Foyer.

---------------------------------------------------------------------------------------------------------------

Broxbourne Arts Forum ("BArts")
Lea Valley U3A is affiliated to BArts, and one of our members is present at a table in the bar area at all monthly meetings, with leaflets and information.
BArts offers activities and events which are not usually provided by the Borough of Broxbourne's Leisure and Entertainments programme.
It also represents the arts interests of individuals and member groups and negotiates with the Borough, so that the arts community may enjoy greater recognition and leisure facilities on a par with the provision for sports.
For more information either come to the table at our main meetings or visit the BArts website at:
www.broxbournearts.org.uk

---------------------------------------------------------------------------------------------------------------
Lea Valley Discussion Group
This local society, founded in 1976, meets on Monday evenings usually twice a month at the Methodist Church Hall, Middlefield Road, Hoddesdon.
For more information and contact details please
click on the link below:

------------------------------------------------------

- End -

TOP

'Click' word Top above to return to top of this page.